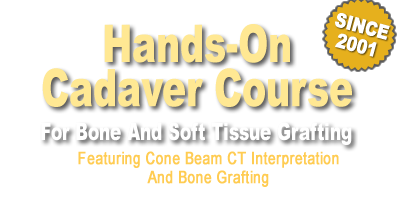 Course Director: Dr. John Russo is a graduate of The Ohio State University College of Dentistry. He completed his periodontal training and earned a Master in Health Sciences degree from the Medical University of South Carolina. Dr. Russo is a Diplomate of the International Congress of Oral Implantologists. He is in private practice in Sarasota, FL and is a clinical assistant professor at the Medical University of South Carolina in the Division of Periodontics. He is an author and an international lecturer on bone grafting and dental implant surgery.

Course Co-Director: Dr. Bob Gellin joined the Medical University of South Carolina faculty in 1985. He is Professor and Chair of the Department of Stomatology, Director of the Division of Periodontics and a Diplomate of the American Board of Periodontology. He maintains an active practice limited to Periodontics within the College's Dental Faculty Practice. Dr. Gellin is also the administrator of the College of Dental Medicine's clinic management software.

Dr. Thierry Bacro, Ph.D is an Associate Professor in the Department of Regenerative Medicine and Cell Biology at the Medical University of South Carolina where he joined the faculty in 1995. He graduated from the University of South Carolina School of Medicine with a Ph.D in Anatomy and Developmental Biology in 1994. He has been the Director of the Gross and Neuroanatomy course taught to the dental students in the MUSC College of Dental Medicine since 2004. He also serves as the Director of the Center for Anatomical Studies and Education at MUSC and as such is instrumental in obtaining and processing the specimens for the cadaver hands-on laboratory.

Participating faculty will vary based on course location and date.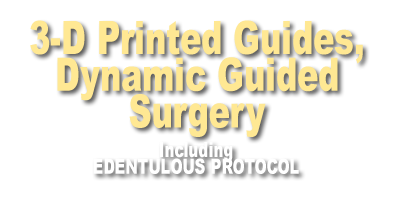 | | |
| --- | --- |
| Course Director: Dr. John Russo is a graduate of The Ohio State University College of Dentistry. He completed his periodontal training and earned a Master in Health Sciences degree from the Medical University of South Carolina. Dr. Russo is a Diplomate of the International Congress of Oral Implantologists. He is in private practice in Sarasota, FL and is a clinical assistant professor at the Medical University of South Carolina in the Division of Periodontics. He is an author and an international lecturer on bone grafting and dental implant surgery. | |
| Speaker: Dr. Rick Ferguson has been involved in teaching implant dentistry for the last 22 years on topics including treatment planning, case selection, surgical placement and restoration, bone grafting Computed Tomography, surgical guides and management of complications. He maintains a private practice with his wife Dr. Katherine Ferguson in Florida emphasizing dental implants and where they also teach a live surgery continuum with the University of Florida. Most recently Dr. Ferguson has been instrumental in developing several low cost 3D printers for dental use including workflows for in office fabrication and use of static implant placement guides. | |
| Speaker: Dr. Robert W. Emery is a Board Certified Oral and Maxillofacial Surgeon in private practice in Washington, D.C. Dr. Emery began his dental training at the University of Illinois in Chicago. He subsequently completed a General Practice Residency in New York at LIJ and finally completed his Oral and Maxillofacial Surgery training at the University of Maryland and Shock Trauma. Dr. Emery has a special interest in image guided surgery and implant dentistry speaking both nationally and internationally. He has published numerous articles and book chapters. Dr. Emery received the Nobelpharma Oral and Maxillofacial Surgery Research Award and Grant, from the Oral and Maxillofacial Surgery Research Foundation. He is also actively involved in numerous research and development projects with emphasis on Dynamic guided surgery and 3-D vision systems. He is a founding partner of X-Nav Technologies LLC. Presently he is the Director of the Capital Center for Oral and Maxillofacial Surgery, The West End Surgical Center, Senior Attending Surgeon at the Washington Hospital Center, and Chief Medical Officer of X-Nav Technologies. | |