| | | |
| --- | --- | --- |
| | Video is not visible, most likely your browser does not support HTML5 video | JOHN RUSSO, D.D.S., M.H.S. |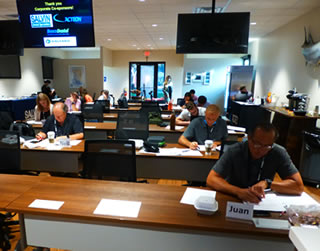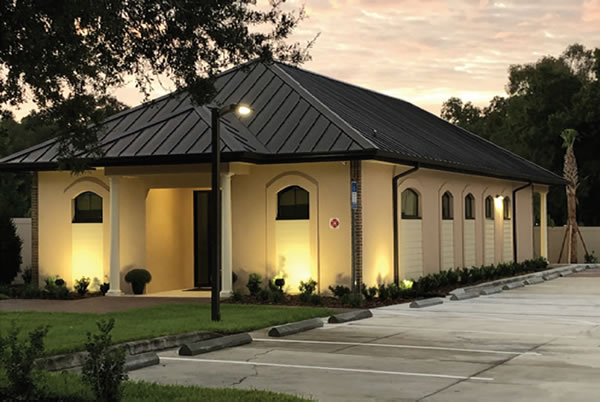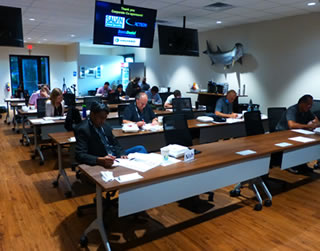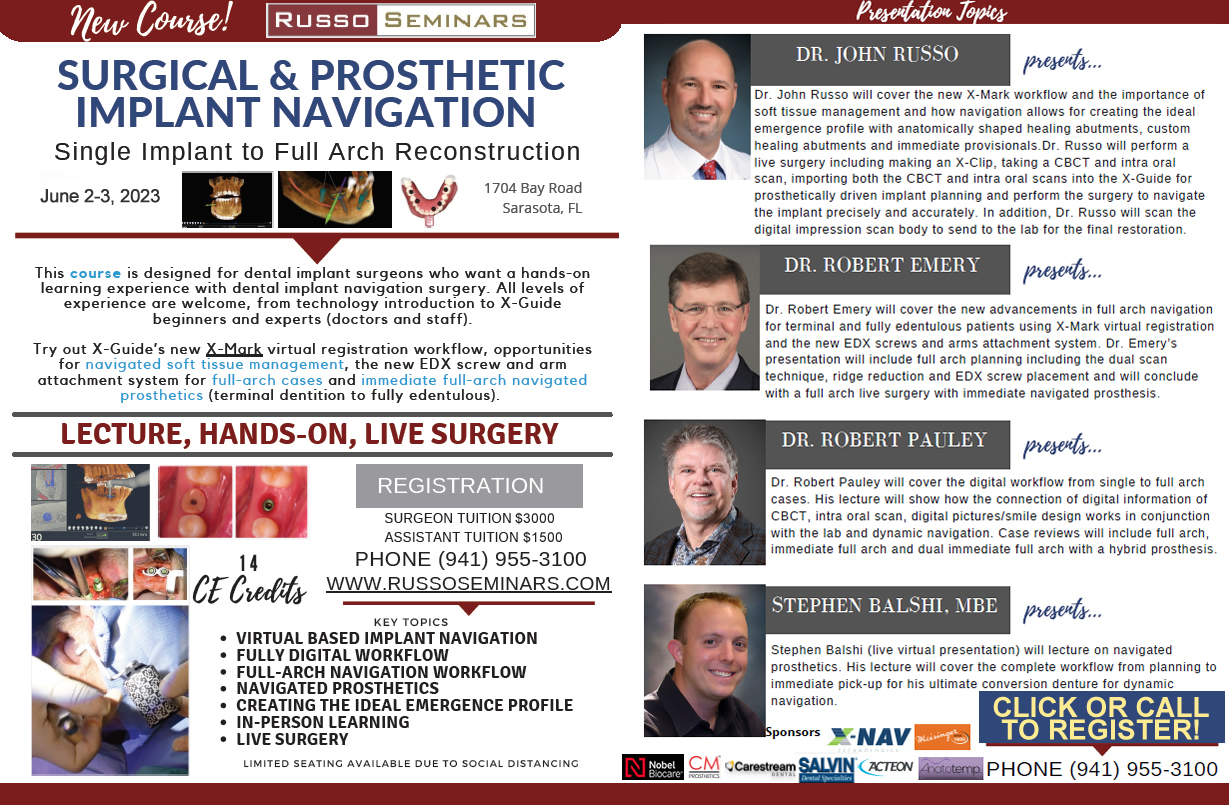 June 2-3, 2023
Navigation from Single to Immediate Full Arch Reconstruction
Course Description:
Live implant navigation surgery course covering single implants with soft tissue management to immediate full arch reconstruction. The course is designed for dental implant surgeons with varying levels of X-Guide experience from beginners to experts (doctors and staff) to doctors looking to add dynamic navigation to their high-tech practices. The course will cover in lecture, hands on and live surgery the X-Guide's new X-Mark virtual registration workflow, opportunities for navigated soft tissue management, the new EDX screw and arm attachment system for full arch cases and immediate full arch navigated prosthetics (terminal dentition to fully edentulous).
Speakers:
Dr. John Russo will cover the new X-Mark workflow and the importance of soft tissue management and how navigation allows for creating the ideal emergence profile with anatomically shaped healing abutments, custom healing abutments and immediate provisionals. Dr. Russo will perform a live surgery including making an X-Clip, taking a CBCT and intra oral scan, importing both the CBCT and intra oral scans into the X-Guide for prosthetically driven implant planning and perform the surgery to navigate the implant precisely and accurately. In addition, Dr. Russo will scan the digital impression scan body to send to the lab for the final restoration.
Dr. Robert Pauley will cover the digital workflow from single to full arch cases. His lecture will show how the connection of digital information of CBCT, intra oral scan, digital pictures/smile design works in conjunction with the lab and dynamic navigation. Case reviews will include full arch, immediate full arch and dual immediate full arch with a hybrid prosthesis.
Steven Balshi CDT (live virtual presentation) will lecture on navigated prosthetics. His lecture will cover the complete workflow from planning to immediate pick up for his ultimate conversion denture for dynamic navigation.
Dr. Robert Emery will cover the new advancements in full arch navigation for terminal and fully edentulous patients using X-Mark virtual registration and the new EDX screws and arms attachment system. Dr. Emery's presentation will include full arch planning including the dual scan technique, ridge reduction and EDX screw placement and will conclude with a full arch live surgery with immediate navigated prosthesis.
Hands on: Intraoral scanning, making an X-Clip, EDX screw placement on models and advanced software planning followed by X-Mark registration and navigating osteotomies for tilted implants on the X-Guide.
Doctors are encouraged to bring dental assistants who will be assisting in planning, calibrating the machine and preparing arms and trackers.
Tuition: Doctors $3000, Assistants $1500

---
The tuition for the Palate Free Soft Tissue Course is $995.00

Six Continuing Education credits will be given for the full day course.

Dr. Lynch – 2 Hour
Biology of Regeneration for Clinicians: Why We Do What We Do
Learning Objectives

1. Examine the latest advances in the use of biologics in oral tissue regeneration
2. Explore applications of biologics in oral and maxillofacial surgery and periodontics
3. Understand the mechanism of action of biologics and their differences
4. Review clinicals uses and evidence of biologics

Dr. Barootchi or Dr. Tavelli – 1.5-hour
Clinical Experience with GEM 21S® in Oral Tissue Regeneration
Learning Objectives

5. Review the latest peer-reviewed clinical evidence on the efficacy of biologics in contemporary periodontal practice
6. Discuss the impact on long term outcomes with the use of biologics in combination with bone graft materials
7. Formulate evidence-based recommendations for clinical practice and future research
8. Explore clinical case experiences, techniques, and treatment solutions

Soft Tissue Course – Palate Free Program – (3-hour course)

-Describe the indications for the use of a new volume-stable collagen matrix to augment soft-tissue thickness around dental implants and its important role in "biotype conversion" with review of short to medium term cases.
-Recognize the benefits of the use of a unique collagen matrix to increase the zone thickness of attached keratinized gingiva in one visit. Long term documented cases will be reviewed.
---

Introduction to Microsurgery a Hands-on Course
October 6, 2023
Six CE credits will be given - More info to come!


---
| | |
| --- | --- |
| Video is not visible, most likely your browser does not support HTML5 video | Video is not visible, most likely your browser does not support HTML5 video |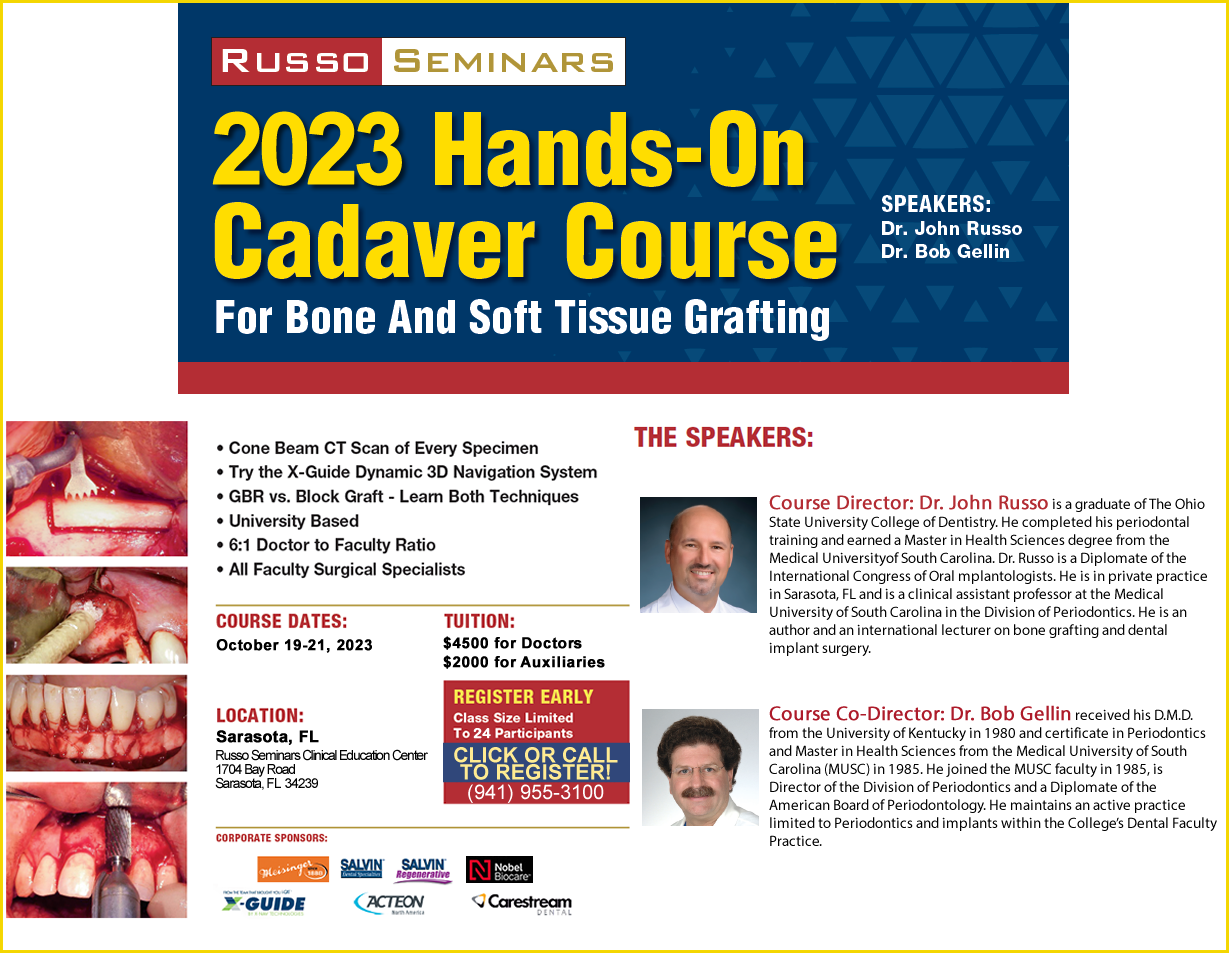 The Ritz-Carlton Sarasota
1111 Ritz Carlton Drive
Sarasota, FL 34236
941-309-2000

The Westin Sarasota
100 Marina View Drive
Sarasota, FL 34236
941-217-4777

Hyatt Regency Sarasota
1000 Blvd of the Arts
Sarasota, FL 34236
941-953-1234

Embassy Suites by Hilton Sarasota
202 N. Tamiami Trail
Sarasota, FL 34236
941-256-0190

Tropical Breeze Resort
140 Columbus Blvd
Sarasota, FL 34242
941-349-1125

Siesta Key Beach Resort & Suites
5311 Ocean Blvd
Sarasota, FL 34242
941-349-3211
This course is designed to give dentists the information needed to make a proper diagnosis of a mucogingival defect, formulate a treatment plan and perform the procedures he or she feels confident performing. Indications and contraindications of free gingival grafts and connective tissue grafts will be given. Other soft tissue management covered will include incision design, partial vs. full thickness flaps, and various suturing techniques. The format will consist of lecture, hands on laboratory exercises on dry models and pig jaws. Live surgical observation in our brand new, state of the art teaching center are now a part of the course.
This course is designed for dentists who have mastered socket preservation and are looking to expand their bone grafting techniques. Diagnosis and treatment planning will be covered along with indications and contraindications for each type of graft. Preventing and treating complications will also be covered. Techniques to be covered include: autogenous block grafts, block allografts, sinus bump as well as the lateral window technique for sinus lifts. Live surgical observation will be included but not guaranteed for every single procedure. There will be at least one surgery per day. Hands on exercises will include outlining the external oblique ridge for an autogenous block harvest and performing a block allograft on a model and a lateral window sinus lift on a model.
The classroom will be arranged to allow for social distancing, we will provide individually packaged breakfast and lunch, and attendance will be limited. Our entire teaching center will be thoroughly cleaned for a safe environment for continuing education.
---